Belmont Farmers' Market
Supporting local farms & producers
in a great community environment
Thursdays 2:00 – 6:00
June 6–October 31, 2019
Town Center parking lot, Belmont, Mass.
It's a fun & welcoming community event, every week. The Belmont Farmers' Market is more than great local food. Come for a friendly community event, with Storytime, performances for kids and grownups, community information, and chats with friends and neighbors – rain or shine. Don't miss anything: Sign up for our newsletter!
We match government benefits to help all families take home great, local food: SNAP (Food Stamps), WIC (for moms & babies) and FMNP (for seniors). Most of our produce vendors accept HIP.
Schedule for September 26, 2019
Events Tent
2:00 Cuvée Fine Wines/Craft Beer Cellar Rematch. Cheese Pairing Showdown: the Rematch! We will be tasting two cheeses from our Market vendors, Foxboro Cheese and The Little White Goat Dairy. You vote on which beverage pairs better with a particular cheese. Richard will be pairing the wines and Kate will be pairing the beers. What do you think? Are you Team Grape or Team Grain?

3:00 Face painting. Nina is back! Stop by and choose one of her designs, or suggest your own.

4:00 Storytime. Staff members from Belmont Books will read stories to kids and grownups alike. Get a snack from a vendor, and sit down to enjoy this great event.

4:30 Magic with Ryan Lally. Our own resident magician, Ryan Lally, will be with us! Ryan has been performing at the market since he was a young teen. He's now a professional magician. He mesmerizes his audience, both young and old, bringing classical magic into the modern age with humor and aplomb.
Community TENT
2:00 – 6:00 Media Day at the Market. Jeff Hansell from Belmont Media Center and Joanna Tzouvelis from the Belmont Citizen-Herald give out information about their projects and where you can get Belmont's most reliable news. They will be reporting live from the market's Community Tent.
Vendors
Produce: Dick's Market Garden, Hutchins Farm, New Song Farms (Flats Mentor), Nicewicz Family Farm, C & M Farm, Joyberry Farm, Underwood Greenhouses

Meat, fish & dairy: Hooked (Red's Best & Boston Smoked Fish Co), Lilac Hedge Farm, Foxboro Cheese Co.

Bread, pastry & sweets: Mamadou's Artisan Bakery, Mariposa Bakery, Gracie's Biscotti, Dulce D Leche

Prepared foods: Tex Mex Eats, Just Hummus Boston

And more: When Life Gives You Lemons, 1634 Meadery
Find out more about all of our vendors

Belmont Food Pantry
Bring a donation of non-perishable items to the Manager's Tent. We'll get it to the Belmont Food Pantry.
more than just Great Food, it's a community experience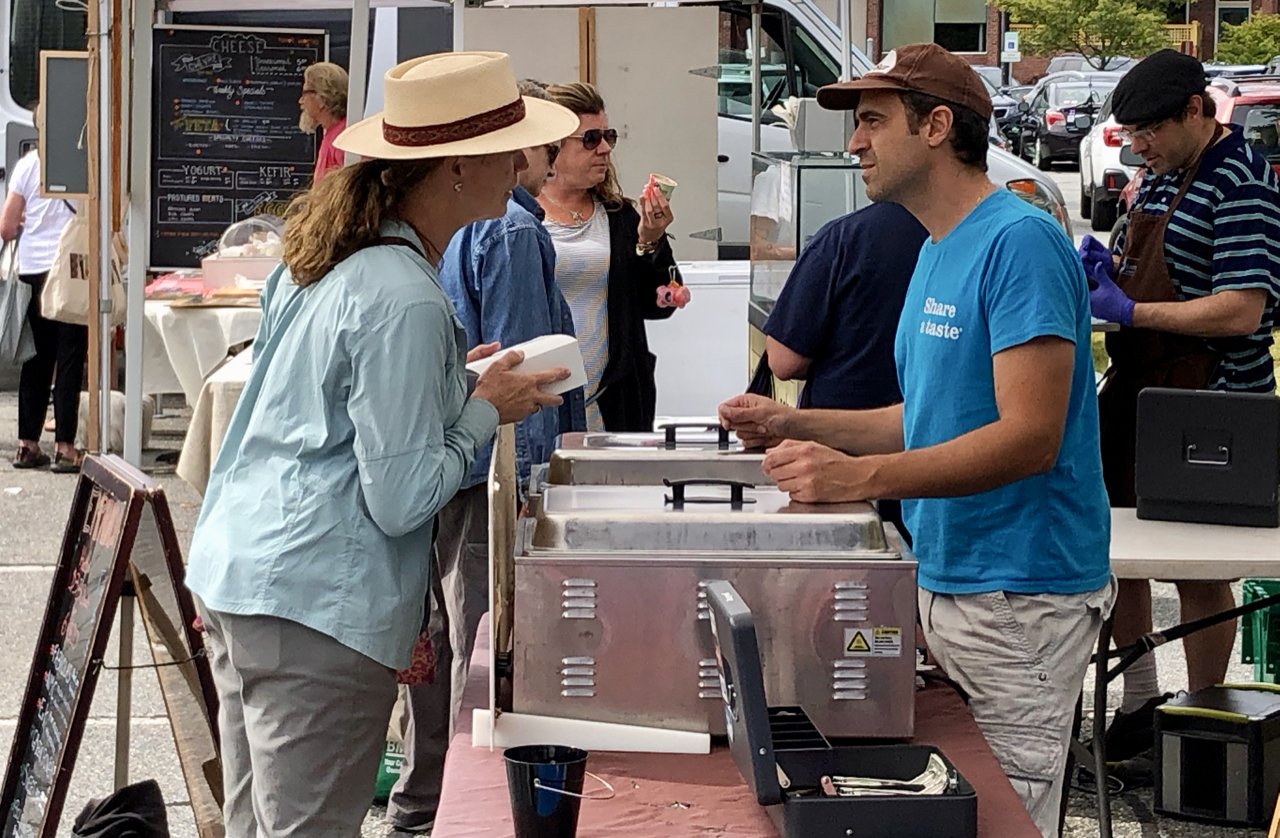 "I love the community aspects of it—seeing people I know, chatting, and having relationships with the vendors."
"It's my favorite part of Belmont!"

"Love the Storytime, it has been such a wonderful thing that my kids adore. Also, face painting was a hit!"

"Friendly vendors always make the experience great"

Many of the merchants in the Center partner with us. Some restaurants buy ingredients from our vendors, while others offer tastings or display their wares at the market.

"Good bread, excellent heirloom tomatoes, and magical lettuce that never goes bad.
My latest discovery is rainbow chard. I was intimidated by chard (it looks like something only very adventurous vegans would eat) - but I asked one of the women at the stand what to do with it. She instructed me to saute it like spinach with garlic, olive oil, salt and pepper. I added in a vidalia onion and some tilapia - and I have never been happier!"
"I am very grateful for your matching funds. It helps me tremendously."
–A SNAP shopper
Find out what's at the Market each week Sign up for the email newsletter for weekly info about vendors, performers and special events; click the link, or text ILOVETHEBFM to 22828. Follow the Market on Instagram, Facebook and Twitter.
Our mission To provide members of the community a place to purchase fresh, local produce and goods directly from farmers and producers in a congenial atmosphere; to provide farmers and producers a direct market for their produce and goods; to support local agriculture and producers; to educate our community about eating healthfully; to educate residents about maintaining a healthy environment and the importance of sustainable agriculture; and to provide a social experience that helps build community and enhances the quality of life in Belmont.. Read more about the Market.